Undergraduate Programs
Both campuses, Madrid and Toledo, offer undergraduate courses throughout the year. In Spanish only in Toledo and English and Spanish in Madrid.
Most courses have an out of the classroom component with visits to museums, companies or plays. You may request to be sent a syllabus for a specific course. Description of courses are available at our website.
The Fundación Ortega-Marañón organizes several programs for undergraduate students during the year: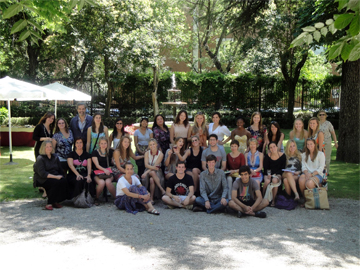 The Fundación has established agreements with different universities (Arcadia University, University of Denver, Georgia State University, Kobe University, Ohio State University, Princeton University, Southern Methodist University, Universidad de Puerto Rico, University of California, San Diego, University of Chicago, University of Minnesota, University of Notre Dame, University of Portland, University of Texas at El Paso) and we are in the process of establishing new agreements with other universities from all over the world. If you are a student from one of the universities listed above, please contact your home institution. If you study at another university, please contact us and we will inform you if we have any kind of agreement with your university or we will help you with the process of transferring credits.
Academic Year
Students may come for the whole academic year (beginning in the Fall and ending with the Spring), but can also combine Spring with May or Summer courses.
Summer Intensive programs
The Fundación offers a wide range in courses also in the Summer. From Art History, Political Science, Spanish Language, Culture and Literature, to Cinema. In Toledo you can also take the Internship course during the Summer.
Short Term programs
Take advantage of an intensive immersion in Spanish culture to study such interesting topics as: Human Rights in Spain, Spanish Business in Practice, European Union Economy and Law or Three Cultures in Spain (Christian, Jewish and Muslim).
Semester
Madrid
Courses both in Spanish and English. Courses in Art History, Business, Religion, Spanish Language and Literature, Human Rights and an Internship Course. Most courses have an out of the classroom component with visits to museums, companies, plays or the Parliament.
Toledo
All courses in Spanish. Semester and Summer courses in Politics, Archaeology and Anthropology, Philosophy and Religion, Spanish and Latin American Literature, Cinema and Theatre, Economics and Business, Service Learning and Internship courses too. Students take advantage of living in a small but open community to participate in different voluntary or credit granting activities.
The Fall semester goes from the beginning of September until mid- December. The Spring semester starts in early January and goes on until the end of April.